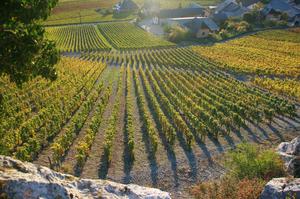 Savoie Snow Wine From Roussanne Grapes


Colour
Deep straw gold.
On the Nose
A nose full of honey, wax and candied orange, angelica and dried fig.
On the Palate
A rich palate and a good balance with the sweetness of this wine. An ample and smooth mouth.
Grape variety

100% Roussanne, late-harvested grapes.

The Winemaker's comment

"Vinified with late-harvested Roussanne grapes grown in one of our best plots, Premiers Flocons® (litterally "First Snowflakes" in English) is an explosion of flavours and is the perfect treat for you and everyone you love"
Food and Wine pairings
Traditionally enjoyed with chestnut-based meals, foie gras, light desserts and blue cheese.
You can also appreciate this wine with sweet and sour Asian food such as peking duck.

Price
0.50L Premiers Flocons®: €15 incl. VAT