ROSE from Mondeuse wine, AOC Vin DE SAVOIE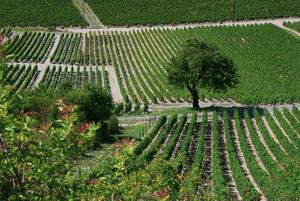 Color:


On the Nose :


On the Palate :


Wine profile :
100% Mondeuse
Winemaker Opinion :
"a r"
Alcohol % :
%
Vintage avalaible :
2017
Food and Wine match :
Perfect for a summer barbecue with red meat, Savoie's sausages (Diots) or even grilled fishs.
Cellar Price : 7€
Ce Rosé est un rosé de Mondeuse exclusivement, obtenu par saignée au bout d'une nuit. Les raisins de Mondeuse sont encuvés tout au long de la journée et le lendemain matin, on retire une partie du liquide qui a eu le temps de se colorer en rosé pendant la nuit, jusqu'à 10% au maximum. Et ensuite, on le vinifie comme un vin blanc. Cette opération est en fait, une technique de concentration du vin rouge, car dans la cuve on change le rapport entre masse solide et liquide, on augmente la proportion solide, constituée des peaux, des pépins et des rafles, d'où sont extraits la couleur et les tanins.
De cette façon, on améliore son vin rouge et on obtient en plus un vin rosé de macération de bonne qualité. Les quantités restent limitées, de l'ordre de 1500 bouteilles par an.


Vin rosé le millésime 2015 :
Couleur très bien réussie cette année à l'image des rosés de Cotes de Provence. Nez expressif et frais qui signale par des notes thiolées, amyliques et épicées : litchi, cassis et buis, bonbon anglais et fénugrec. Bouche ronde et sèche à la trame minérale.